In a time when I was unable to travel and feel connected to the world, The Whittaker Inn brought a tiny world to my backyard. The inn has given my family the opportunity to connect with each other when we were not able to connect with the rest of the world. We have spent Christmas Eve dinner at The Whittaker the last few years, and the dining room is always filled with laughter and the smell of homemade eggnog and butter horn bread rolls. For my sister's bridal shower, the owners created a traditional English afternoon tea; with small pastries, four different types of tea, and a variety of finger sandwiches. Each visit and room I stay in shows a new story of past travels.
Elizabeth and Andrew Whittaker said that they knew when they dreamed of starting an inn of their own, it would be created right outside of downtown Lafayette, Indiana, and Purdue University, their alma mater. The Whittakers carefully designed each room to resemble destinations that the owners have traveled to or one day, dream of visiting. If you allow yourself to take in each detail, no matter the size, a unique story can be found in each room of the inn. Settled on 25 acres, just a few miles off Interstate 65, The Whittaker Inn has been designed to offer a secluded feel to guests while being close to local activities and amenities.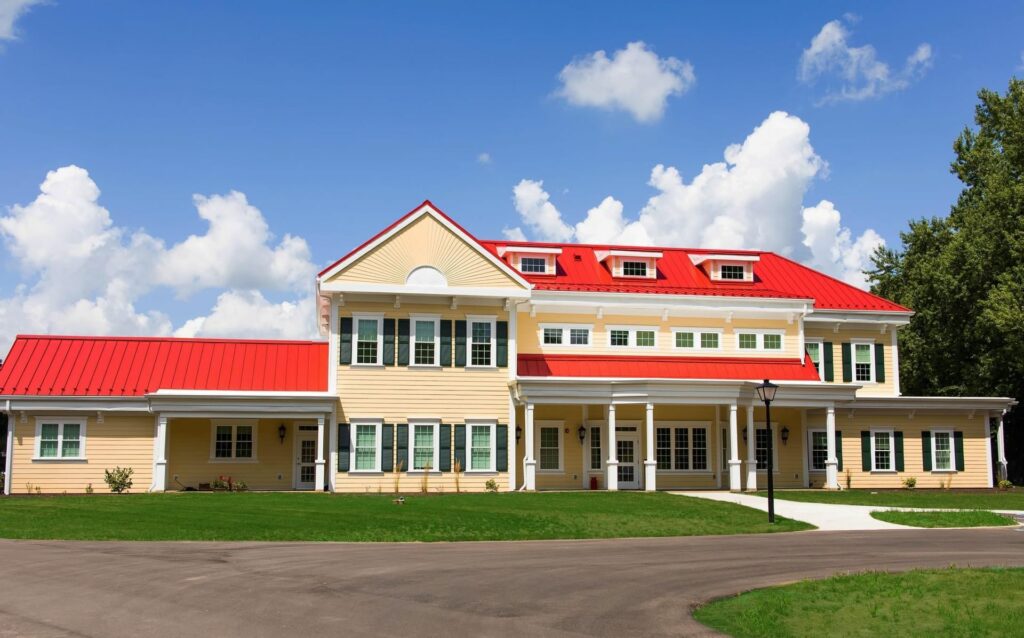 Andrew was from a small town outside of Canterbury, England, while Elizabeth grew up in Northwest Indiana. The Whittakers met while they were both students in the School of Hotel and Tourism Management at Purdue in the 1990's. After graduating, Andrew and Elizabeth pursued careers working in the culinary arts and guest services on the East Coast for the next 20 years. During that time, they gained the knowledge they needed that would prepare them to open their own inn in May of 2019.
As a small family-owned inn, Elizabeth told me, "We want to share our passion for travel and hospitality with others. Because of our size, we can offer a personalized and unique experience to each guest that larger hotel chains are often not able to create." Outside, guests can wander the 25 acres; inside, there is a room with a pool table, games, and puzzles.
The inn has 13 guest rooms and two suites with a variety of sleeping accommodations. Each room is designed with inspiration from countries including Norway, France, Brazil, Australia, Canada, Spain, Greece, China, India, Japan, England, Tanzania, Italy, and the United States. The United States features two separate rooms: New York, and the largest room in the inn, the Indiana Suite.
Each room features hand-picked and authentic details from each destination. In the Tuscany room, you will find sconces hanging on either side of the bed encased in glass made in the world-renowned glass blowing city of Moreno, Italy.
In Greece blue is seen as a color of protection against bad spirits. The Whittakers took this into careful consideration when painting a feature wall of the Greece room blue and including smaller blue décor around the room.
You can find a Fun Facts sheet in each room that highlights information for each destination. For example, the France room's fact sheet says, "a traditional baguette can only include three ingredients – flour, yeast and salt. It must also weigh 250 grams."
Even the smallest details, such as sewn toiletry bags, and hand-knitted soap pouches lovingly created by Elizabeth's mom, can be found on the bathroom vanity in each room.
When I asked Elizabeth what her favorite room in the inn was, she said, "I get that question a lot, and it is always really hard to answer. I say it is like trying to pick a favorite child because each one is different, and we put a lot of thought and planning into each room." However, two rooms hold sentimental value in Elizabeth's heart.
The Greece guest room was created as a tribute to her dad's side of the family. Her grandparents are from Greece, and they were the main inspiration for the room. If you look carefully, you can find a photograph of her grandfather when he was young with his family in Greece hanging in the room.
Her second favorite room, the P.L. Owens Boardroom, is a meeting room that was created for her grandfather on her mother's side. The focal point of the room is an amazing table in the shape of the state of Indiana; more important than the design itself is the story behind the table. Elizabeth's grandfather had a large heart for service; because of this, they chose a company located in Indianapolis, Indiana, called Purposeful Design to create the table for the inn. The company helps men who struggle with addiction or homelessness by teaching them the trade of woodworking to help them get back on their feet.
It is no secret that the kitchen is the heart of the home for many families. "The Whittaker Kitchen" is complimentary to all guests for breakfast during their stay and open to reservations to guests for dinner. Members of the community and individuals who are not staying at the inn still can experience the amazing food from The Whittaker Kitchen by making dinner reservations Wednesday through Sunday from 4 p.m. to 8 p.m. Dinners are usually a four-course meal that include an appetizer, salad, entrée, and dessert. Everything from the rolls to the mouthwatering desserts are created in the inn's kitchen.
I have incredibly fond memories from The Whittaker Kitchen over the last two years. My parents have rented the dining room for Christmas Eve since 2019. Andrew and Elizabeth create a festive Christmas scene with their large, beautiful Christmas tree filled with treasured ornaments, many made by the family, and they have a Christmas village on display that is truly delightful. The village spans across 15 cube shelves on a bookshelf covering one of the main walls in the seating room. Each cube is a peek into a different Christmas scene, from a snowy carriage ride and people hanging up lights on their house, to families ice-skating in front of evergreen trees.
The owners have plans to expand amenities over time. These amenities include building a barn outside to create a larger venue for weddings and retreats; adding a swimming pool, basketball court, retreat and wellness spa; additional gardens, including a chef's garden, and increasing the size of the current orchard. The chef's garden and orchards will support the Whittaker's vision of everything being served and displayed at the inn being locally created and personal.
Whether you are looking for a delectable, non-rushed dinner or a getaway close to home, The Whittaker Inn tries to create a. unique experience. Even now, as I am traveling again, I love to make time to visit the world in my backyard; no plane ticket is necessary.